Chartering a bus can be an inexpensive way for groups to travel. It's convenient and easy, not to mention you can see the beautiful scenery along the way. However, it might seem a little confusing if you're unfamiliar with how to charter a bus. That's why we've compiled a list of all the necessary steps for the first-time bus traveler.
Chartering a Bus: Guide from a Boston Bus Rental Company
Buses are one of the most efficient and safe travel methods. With a charter bus, you can ensure your trip won't spoil. Bus bookings for groups have many advantages. Below are our guides on what to look at when chartering a bus for travel.
Choose whether or not you need a charter bus.
If you need help deciding on a means of transportation, we're here to help. Not everyone needs or wants to use a charter bus rental service, but it might be a convenient alternative when you need to carry a dozen people or more.
Charter bus rentals are an excellent option for crammed carpools for organizations that need a lot of space for equipment, such as sports teams. Charter bus rentals are useful for large companies that need transportation to off-site training, team-building activities, conferences, or workplace social gatherings.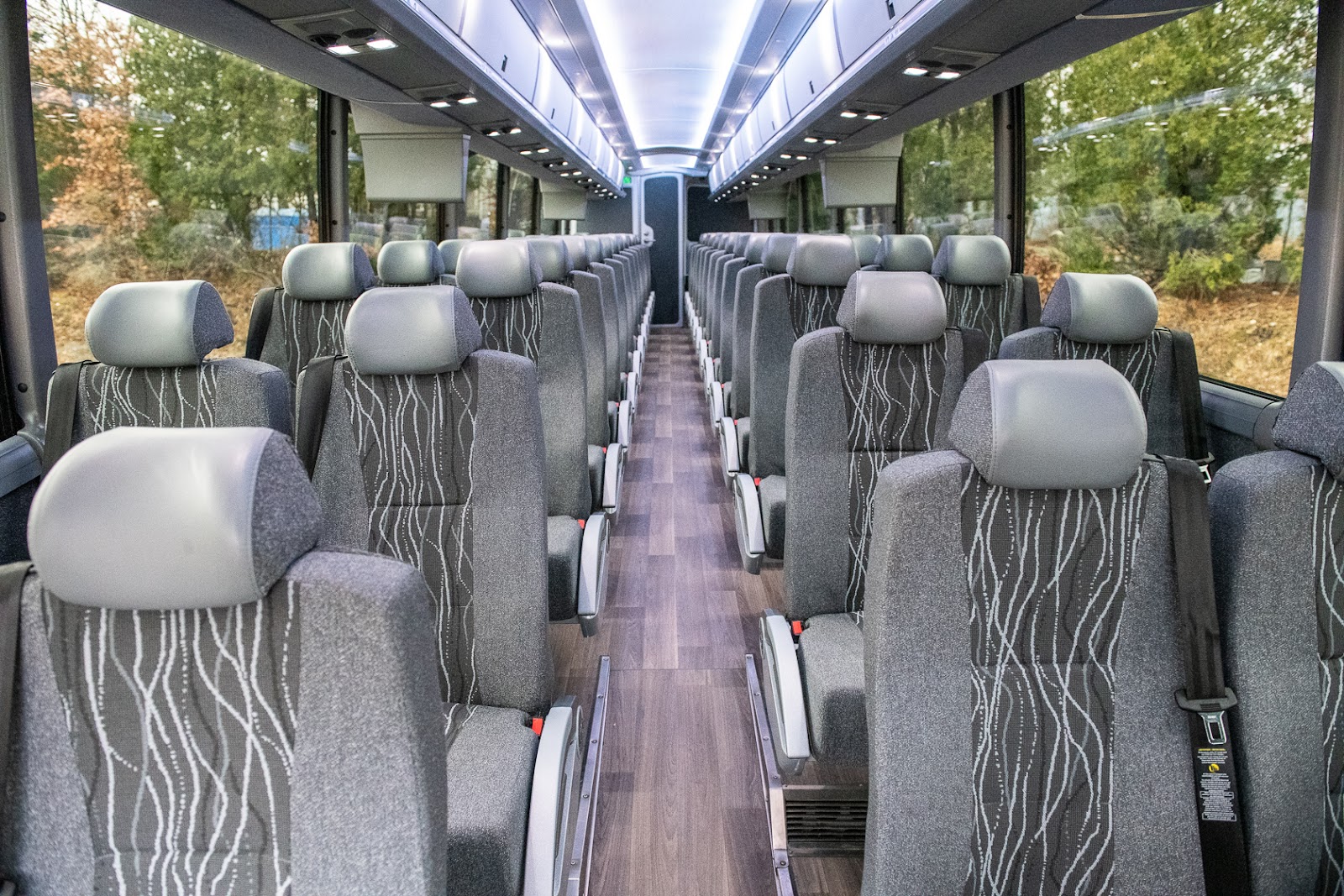 Guests of private events, such as birthday parties or wedding ceremonies, can benefit from the convenience of a chartered bus by reserving one for the event.
Renting a charter bus depends on your group size and how much time you're ready to spend behind the wheel. Reserving a bus is your best choice if you need to go there quickly and easily without asking anyone to take the wheel.
Which type of bus would work best for your needs?
You may always get a free quote and talk to a reservationist at 781-535-6344 to determine which bus would suit your group's needs. In any case, it helps to know what you need before making that phone call.
Minibusses and full-sized charter buses are the two most common kinds of charter transportation. Large charter buses, often known as "coaches" or "motorcoaches," typically have accommodation for 55 or 56 passengers, as well as lots of luggage space and a fully functional bathroom. Minibusses are little buses with seating for 18 to 25 passengers. Generally, minibusses don't have as much capacity for luggage or facilities as larger buses. Full-sized buses and minibusses are available with various optional extras, including Wi-Fi, power outlets, TVs, and more.
An easy rule of thumb is to select a bus type according to the number of people in your company. Minibusses are ideal for smaller groups of passengers, whereas full-sized buses are better for larger groups, such as wedding parties or reunions.
How much does it cost to rent?
Your quote from Local Motion will be customized to your specific trip details. Get your bus fare estimate by calling our reservation specialists and giving you your trip details. You may get free pricing quotes from us without any obligation. 
Before calling, the cost may vary for various reasons. Which are
The duration of your trip.

The length of your trip.

Your Destination(s). 

The season – Summer is peak travel season so prices may be higher than usual.

What kind of vehicle do you want, and how big is it?

Other conveniences, such as internet access and televisions, also affect prices.
The cost of renting a bus can seem excessive initially, but when traveling with a large group, you can divide the bill amongst yourselves to bring down the per-person cost. Before calling for a quote, have the number of people in your party and any other relevant travel details handy.
Commonly Asked Questions
Can I party on the bus?
We do not offer party buses. A minibus is a great, comfortable alternative to a party bus.
Should I tip my driver?
A gratuity is appropriate when drivers go above and beyond duty to accommodate their passengers. It is customary to tip a driver between 10 and 20 percent of the price in cash when the ride is complete.
Is there a place to put things on charter buses?
Yes! Charter buses, unlike many other types of group transportation, typically provide plenty of space for luggage. Similar to the bins used in airplanes, these bins are located above each seat and are used to store passengers' items out of the way.
When using a charter bus, how are the restrooms?
A typical charter bus has a small restroom with just enough room for a toilet and a sink to wash your hands.
Do charter buses have phone charge options and Internet Access?
Most modern charter buses provide Wi-Fi and phone charging ports. However, you should check with your service provider since certain older models may not provide this capability.
Can I carry food and drinks?
Most providers let passengers bring food and drinks. Be cautious. The service provider may charge extra if food is scattered or unclean.
Can I bring pets on the bus?
Due to safety concerns, only a small fraction of companies allow passengers to bring dogs on board. Pets are not allowed on the bus because they can be a disruption, cause costly damage, 
and aggravate passengers who may be allergic to certain animals.
Are there beds in a charter bus?
Although most charter buses lack bedrooms, they provide passengers with comfortable reclining seating.
Are the drivers experienced?
The service providers supply you with highly qualified drivers that observe all safety procedures to ensure the well-being of your loved ones. The drivers are licensed and have undergone extensive training so that passengers may rest easy.
Final Verdict
Although this may be your first time renting a charter bus, we hope to make the process as simple as possible for you. Whether you're a high school football coach needing transportation for your team, a business manager planning an office Christmas party, or the best man needing a bus for your best friend's bachelor party, Local Motion of Boston can help. Please contact us at 781-535-6344 or reservations@localmotionofboston.com for a free, no-obligation price quotation based on your particular needs.