Whether you need to move three people or 3,000, Local Motion of Boston can help by providing high-quality vehicles and professional drivers. This page takes a look at all the ways a Boston charter bus or other vehicle hired through our company can be of use. 
Wedding and Celebration Transportation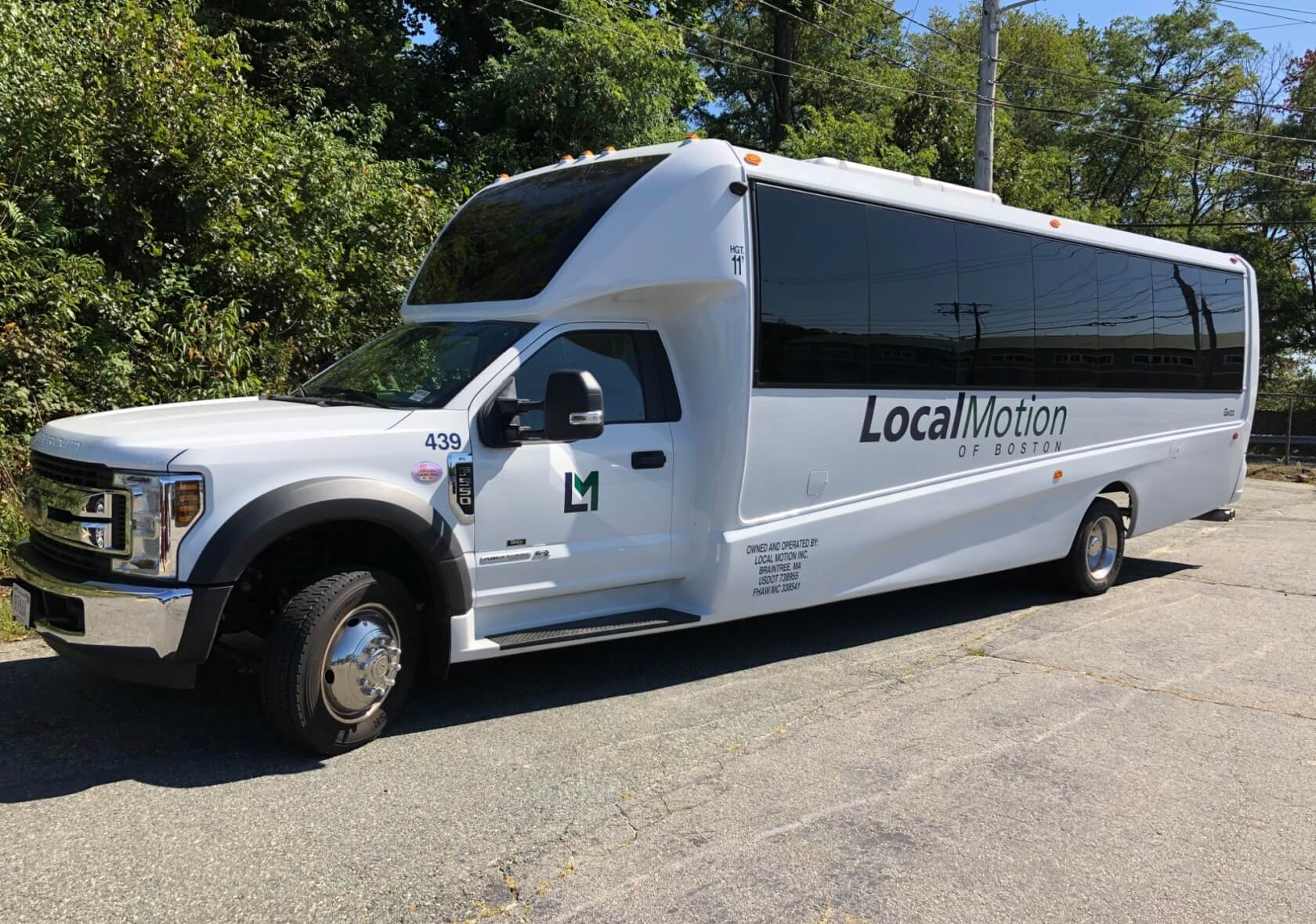 During a special occasion like a wedding or other celebration, the last thing you want is transportation issues bogging the event down. (That fear is perhaps why, according to one study cited by The News-Herald, many engaged couples hire professional transportation for their big day.)
Wedding transportation is one of our specialties, and Local Motion of Boston also has experience transporting passengers to and from bridal showers, proms, bar and bat mitzvahs, anniversary celebrations, and more. We'll help take the planning load off of your back: Our reservation agents are waiting and ready to help ensure all of your guests have a positive experience.
In the case of weddings, groups commonly require transportation between hotels, the ceremony, and/or the reception. In other events, common needs include transportation to and from the event location itself and destinations like airports. We have experience with these scenarios and countless others.
Hiring a transportation company can alleviate many issues for weddings and celebrations. For example, limited parking will be less of a problem if far fewer guests need to drive to a location. If hosting a luxurious event is your goal, then a comfortable, no-stress ride can impress your guests. Finally, if your event includes alcohol, hiring professional drivers means that guests can relax and enjoy your event without worrying about getting home safely.
For this type of transportation, we recommend options from our fleet such as the 14-passenger corporate shuttle van and the 23–27-passenger mini-coach bus. These vehicles have amenities such as reclining seats, air conditioning, and WiFi access. Of course, if one of those vehicles doesn't meet the needs of your guests, our reservation agents will work to find one that does.
Corporate and Executive Transportation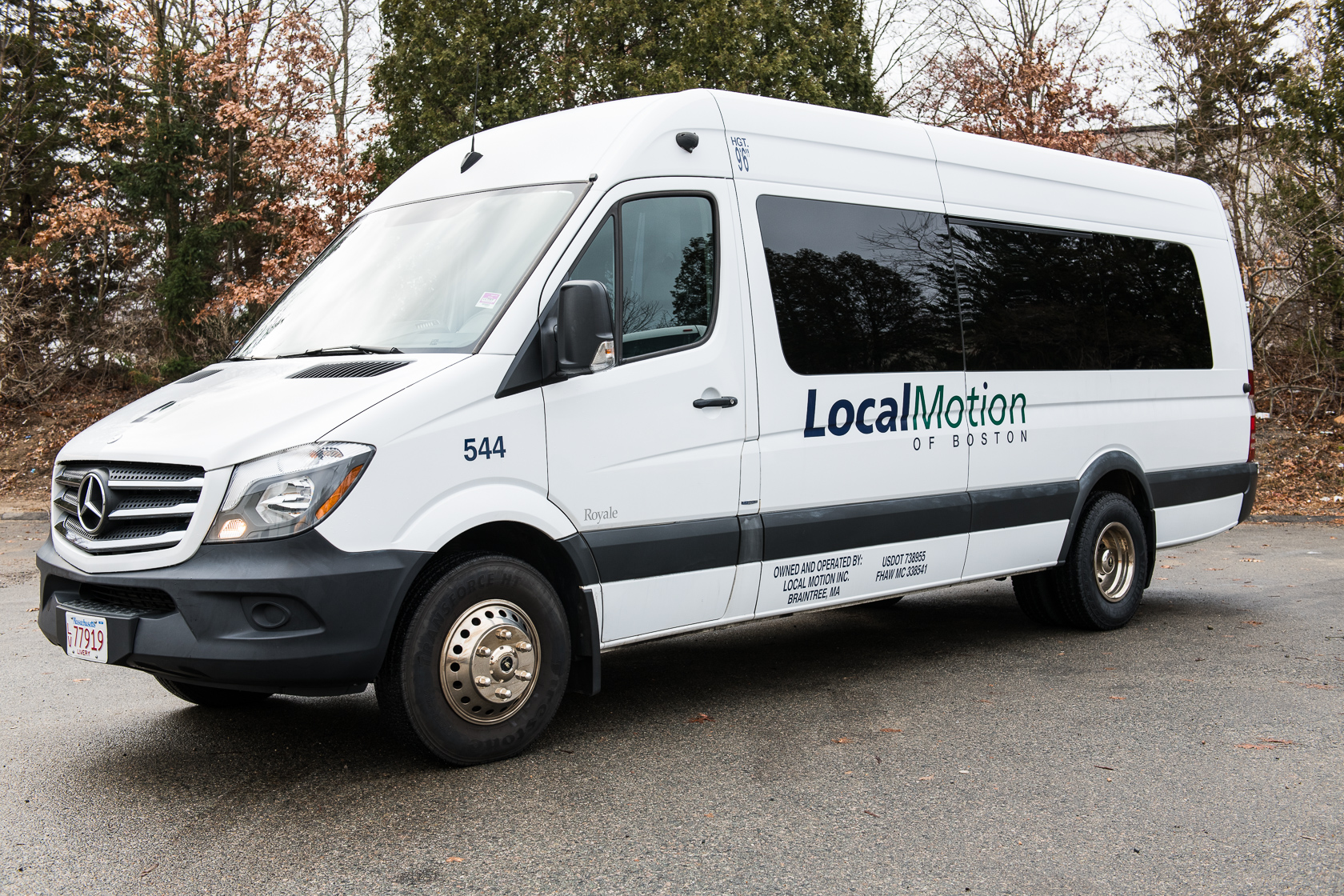 Corporate and executive transportation is a very common transportation need. Companies frequently set up or participate in events like sports outings, quarterly meetings, offsite gatherings, and holiday celebrations. Such occurrences necessitate transportation to and from meeting places, corporate offices, stadiums, convention centers, tours, and so on. Transportation entrepreneur Richard Fertig recommends hiring a professional company to handle such travel needs. Local Motion of Boston fits the bill.
To make your trip a success, our reservation agents will ask for your company's specifications and requirements, and then they will put together a detailed reservation plan. If your company has specific team-building or branding goals, just let us know: We can provide customized options that help meet those objectives.
This type of transportation alleviates many of the same concerns that wedding and celebration transportation services handle. Parking won't be a concern. If your event serves alcohol, finding a safe ride from the event won't be a problem. And finally, if your business wants to impress a client or other important individual, professional transportation can do the trick.
We are also aware that all businesses have budgets to stick to. To that end, we can provide a number of New England and Boston charter bus options at different price points. 
Employee Shuttles
Companies turn to employee shuttles for several reasons, with one being that they are a great perk for workers. According to a report cited by the Boston Globe, drivers in the Boston area lost an average of 2.5 days and $1,760 during one year because of congestion. Providing a shuttle bus that helps relieve that pressure can be a valuable way to attract and retain employees. Additionally, companies that want to go green may also benefit from using large-capacity vehicles for their transportation needs.
Regardless of the reason for hiring an employee shuttle service, they are an easy way to move groups of employees from place to place in a unified manner. Local Motion of Boston offers employee shuttle services to and from event venues, mass transit stops, and conference and meeting centers. We also handle pickup and dropoff from airports, including Providence's T. F. Green Airport, the Manchester-Boston Regional Airport, and Logan International Airport. 
We will go over your company's requirements and create a plan specific to your needs. Additionally, the same customization options from our corporate and executive transportation services apply here: We can work to support your company's team-building and branding efforts as well as provide a range of quotes to fit your budget.
Public & Private School Transportation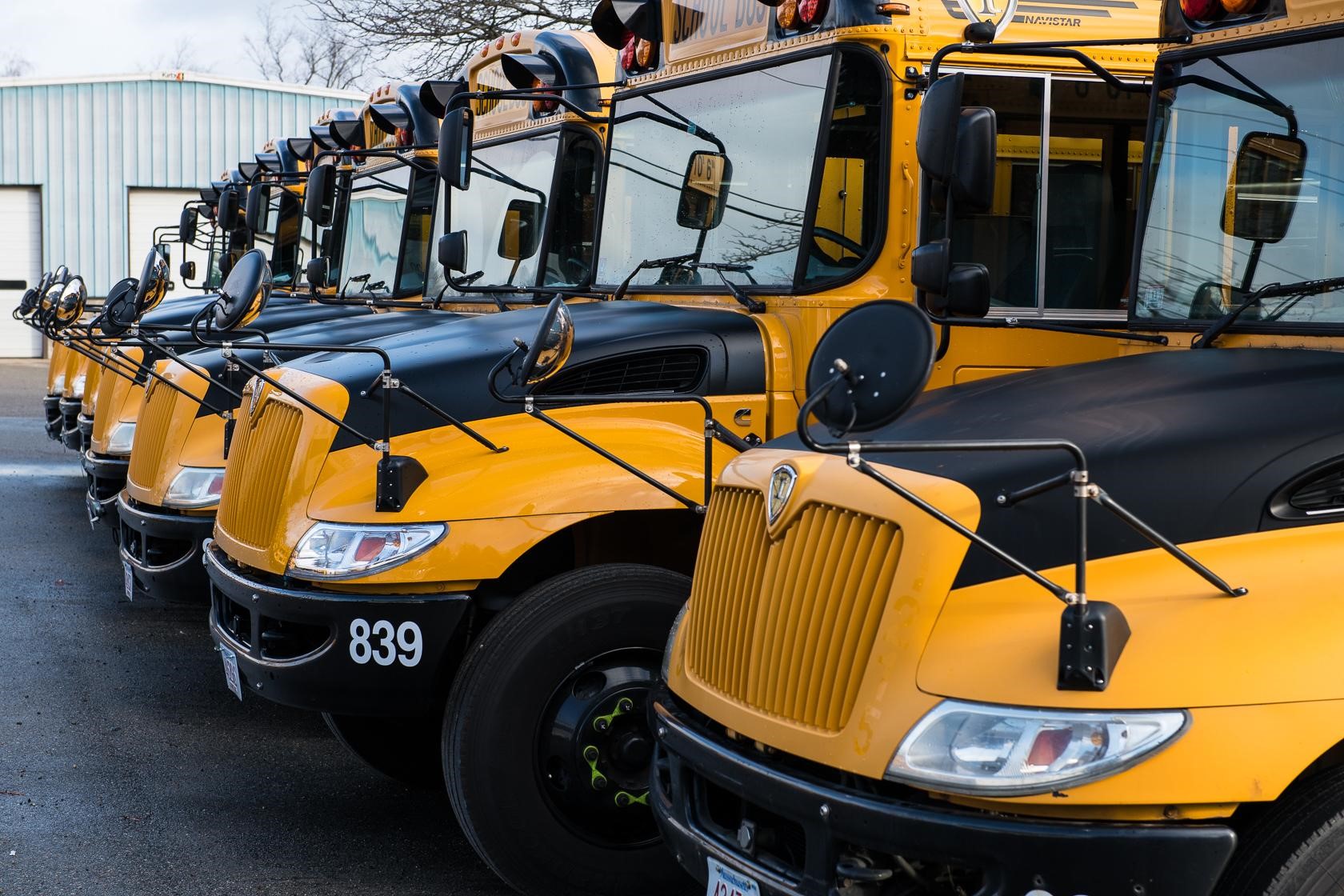 Local Motion of Boston handles the transportation of students of all grades, from kindergarten to university students. We serve public and private schools as well as colleges and universities. Examples of destinations we provide transportation to and from include after-school programs, summer school, camps, special education facilities, field trips, and athletic events. We can also handle daily school routes.
When it comes to student transportation, no consideration is more important than safety. The late-model school buses in our fleet include seat belts, and each bus is piloted by a professional driver. Our drivers go through standard investigation measures before being hired, meaning they undergo drug and alcohol screenings, reference checks, and driving-background checks. Screening for criminal records is also part of this initial check.
Beyond that, our interview process is rigorous, and it takes into consideration each driver's experience level, personality, and predispositions. Additionally, our drivers undergo continual training and are certified in CPR and first aid. They are also equipped with EPTT (Enhanced Push-To-Talk) on mounted devices, which allow for instantaneous communication with our dispatch team. Drivers can hear dispatch and respond when it is safe to do so.  Put simply, we go above and beyond to ensure our drivers are professional and prepared to keep students safe.
Our school buses come in a range of three sizes: small, medium, and large. Depending on the mixture of youths and adults, the small buses hold between 14 and 20 passengers. The medium buses hold between 30 and 47 passengers, and the large buses accommodate between 50 and 77 passengers. However, don't worry about choosing on your own: Our reservation agents can help you narrow down your choices and find the perfect fit.
Team Sports & Athletics
Somewhat related to our student transportation services are our team sports and athletics transportation services. To meet the needs of young athletes and the adults who travel with them, we offer the same late-model school buses described above. Additional options in this area include mini-coaches and motor coaches, which, like the buses, have seat belts for safety.
Our company has experience working with the athletic departments of universities, colleges, and public and private schools across the New England region. Sometimes this entails challenges such as locating difficult-to-find venues, coordinating more than one trip at the same time, and handling the transportation of large numbers of students. We are prepared to meet these challenges, and we have a 20-year track record of delivering students to games and bringing them back again safely and punctually.
We know that budgets are often a consideration for athletics departments. With that in mind, our reservation agents are adept at presenting multiple transportation options to help clients find the right fit.
Special Events and Field Trips
New England has an amazing number of events to experience and sights to see, and Local Motion of Boston is dedicated to helping our customers get to those incredible events and sightseeing destinations. A small sampling of the types of trips we handle includes senior outings, trips to banquets, and travel to specific attractions. Ski trips also fall under our purview, as do many other types of outings.
More specifically, our customers have booked us to travel to destinations such as museums, zoos, and similar attractions, with examples being the Franklin Park Zoo, Roger Williams Park Zoo, the New England Aquarium, the Museum of Fine Arts in Boston, and the Children's Discovery Museum. Other attractions we cover include the Hale Reservation, Faneuil Hall, and the Wheelock Family Theater. Keep in mind that this is only a partial list: We can build a trip to virtually any destination in New England, and we even provide trips to and from New York City.
When it comes to this type of trip, our reservation agents closely examine the transportation needs of each group. They will take into account the number of stops, the number of passengers, the trip's purpose, and many other factors to come up with the ideal transportation solution. The wide range of vehicles in our fleet makes it easy to meet different customers' requirements.
Booking Your Trip
To start booking your Boston charter bus or other transportation solution, just call 781-535-6344 and select option 2 to get in touch with a reservation agent. Our agents can provide quotes on service rates as well as start the process of making sure your trip is a success. You can also reach us through email at reservations@localmotionofboston.com. Another option is sending a booking request through our online form. Our company's service area stretches throughout Boston and New England.