Bus services are highly needed by people working in every sector, whether school kids, regular office-going folks, entrepreneurs, young adults, and everyone else. Also, all of us love outings and trips. And, we often try to organize a short break or relaxing session. Therefore, a lot of staff are needed to bring all of it into action.
Local Motion of Boston has a glorious 25 years of experience in all types of bus service. Working as a bus employee is a fun and cool job in many ways. Bus faculty enjoy several benefits and luxuries; below listed are some of the many advantages you'll reap when working for Local Motion of Boston.
#1 If you love driving and have a polished skillset
A lot of you enjoy driving, and that's the only qualification needed. Can you steer well with a couple of passengers in the back and are very passionate about it? If yes, then you can join the team of Local Motion. You can easily find yourself a better position without holding a 4-year degree or diploma. 
#2 The picturesque scene while traveling
The best part about moving on a bus regularly is the scenic nature or lightened cities. You will view different people, go on a long drive, and meet new people. Overall, it'll be an exciting and full of life trip with new experiences and adventures. 
#3 The paychecks will be generous and awaited
Local Motion of Boston understands its duty towards making the staff feel content and appreciated. The salaries are very reasonable in proportion to the work. You'll definitely feel more productive and satisfied after receiving your timely income. 
#4 A flexible schedule
This depends on the type of trip or passengers that accompany it. Usually, middays and afternoons have fewer passengers because they're either working on studying at the school. 
If it is a long, routed trip, once the destination arrives, people get busy with exploring the place and spending time with their colleagues or friends, which means the bus staff can rest or take a pause. Moreover, Local Motion of Boston also understands how breaks are necessary to increase overall productivity. 
#5 The buses are safe to drive and travel in
It is crucial to keep the bus mechanics up to date with all necessary maintenance, repairs. The bus always has all the tools and pieces of equipment. There are also fire exits in case of any unforeseen accidents. 
#6 Highest Employee Retention rate
The major goal of Local Motion is to keep loyal, hardworking, and skilled employees by reducing turnover or resignations. They create a positive and stress-free work environment for their team members. Providing an appropriate pay scale, motivation, appreciation, and other pay benefits are also a part of employee retention. Click here to check out what our staff has to say about us.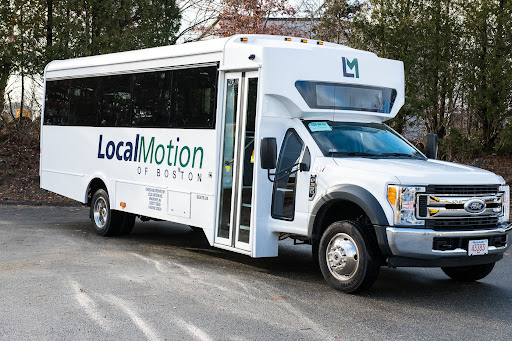 #7 It will be a fulfilling job
Seeing people all around Boston while meeting new and interesting people isn't like sitting in front of a computer and working for hours. The transport staff notices how people celebrate different occasions by going on a trip, which is satisfying and fun. Plus, you get to learn new things and be a part of various activities.
#8 Other benefits
Transport companies provide various other benefits including:
Vacation leaves

sick leaves

off days

Health insurance

Comfortable seating chair for drivers

Food, water, and other necessities like medications are provided in case required. 
Takeaway
These are a few of the many benefits while working for Local Motion of Boston. If you are looking for one currently, follow this link to check out all available careers and vacancies at the moment.