Are you looking for things to do in New England? Well, spring is around the corner, and you have come to the right place. We have handpicked a list of all the amazing places you can visit and things you can do to make this spring memorable. We have been operating around Boston and England for more than twenty-five years. Also, we have had a fulfilling journey with various tourists from around the world.
Now we are determined to take you around New England so that you don't miss out on the magic of this place.
Places to visit
Walk Boston's Freedom Trail and witness the history of Boston and its rich significance.
New England's Aquarium, known for housing diverse sea biodiversity, is going to take your breath away.
Visit Mount Washington and the erratic weather that this mountain is known for.
Pay a visit to Gloucester or Bar Harbor to witness the sea. You can find some native whales being themselves in the waters too.
Billings Farms and Museum in Vermont is a fun experience. It is one of the best outdoor museums in the world. You can pick out a suitable transport service from Local Motion of Boston and set on this journey.
Witness some mesmerizing lighthouses at Prospect Harbor, Bristol and Bar Harbor. New England is known for its picturesque lighthouses.
Do not miss the natural beauty of Acadia National Park. Located at Bar Harbor, it is a conserved property rich in native flora and fauna.
Look out for Covered Bridges. They are a sight not to be missed in New England. Plenty of them are easily located in Vermont.
Take a visit to Stephen King's house, where many mysteries came into existence.
Visit Cape Cod National Seashore to experience a pristine marine environment.
Check out Convey Railroad as it is one of the most scenic railroad experiences you wouldn't want to miss.
The Squam Lake Nature Science Centre in New Hampshire is also a must-visit to witness the native biodiversity of New England.
Mark Twain's house nestled in Connecticut is for all the literature and history lovers.
Rich with America and its marine history, Mystic Seaport is also a must-visit.
If you are taking your little ones with you, make sure you visit Portland's Children Museum.

Must-Have Experiences
Drink the infamous 'Coffee Milk' of Rhode Island at Ocean State.
Visit Ben and Jerry's flavor graveyard to find how mortality can come in many flavors.
New England is filled with picturesque locations, and spring can be the perfect time to set up a tent, light a fire, and doze off in the lap of nature.
If you are not the adventurous type who would like to camp, you can enjoy a fancy brunch by the lakeside.
Experience the typical country fair. Totally different from what you come across in big metropolitan cities, these fairs have a charm of their own.
Visit the Ivy Leagues. Yale, Harvard and Dartmouth all located nearby, are just a drive away. Experience what it feels like to live in an ivy league.
Attend Countryside concerts that are different from what you are familiar with.
Experience the rich farm life. Buy and witness vegetables growing fresh on farms.
Sunrise from Mountain Top, be it Washington peak or Cadillac Mountain, take a hike before dawn to see the majestic sunrise from above the clouds.
Go White Water Rafting at Kennebec River.
Take a Hike at the White Mountains in New Hampshire.
If you are an art enthusiast, pay a visit to Farnsworth Art Museum, Maine.
Green Mountain National Forest is also a must-visit if you are a nature lover.
History enthusiasts can also visit Hildene and learn about Abraham Lincoln's ancestry summer home.
Portland Museum of art is another artistic and cultural delight.
Best Places to Eat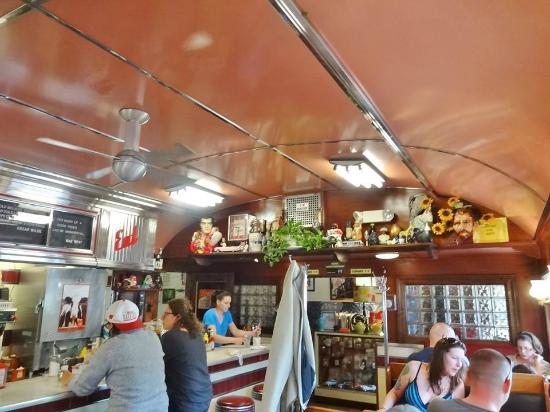 Four Aces Diner, West Lebanon
The Farm Table, Maine
Modern Diner, Pawtucket
Quicks Hole Tavern, Woods Hole
Chilmark Tavern, Chilmark
Atlantic Restaurant, Edgartown
Little Giant, Portland, Maine
Silver Lounge Restaurant, North Falmouth
Zenbarn, Vermont
Primo, Maine
The Gryphon, Vermont
Bar One, New Hampshire
White Horse Tavern, Rhode Island
Moxy, New Hampshire
Hen of the Wood, Vermont
Aragosta, Maine
The District, New Hampshire
Island Creek Oyster Bar, Massachusetts
Union League Cafe, Connecticut
Chapel Grille, Rhode Island
There are so many things to do in New England; you can easily spend a lifetime! It's a place that packs a punch. Visit Local Motion of Boston to know more about the scenic place.