Courteous behavior and punctuality are at the core of Local Motion of Boston's service. We make sure that every journey that you book with us provides you with the most comfortable and carefree experience.
We provide a wide choice of transportation options. No matter if you need a luxury car or a charter rental service, we have solutions for all. In fact, we will transport you with unrivaled luxury, professionalism, and sophistication. Our team maintains our fleet of vehicles in the tidiest state. Irrespective of what time of the day you have booked a service with us, we are always ready to serve you.
Business, personal, school transportation, or special occasions – Local Motion of Boston drives you from anywhere to anywhere in the New England region at any time of the day. Certainly, our service area includes many parts of Boston, Massachusetts, and other regions of New England.
Boston
Boston is a city of surprisingly wealth of places. Certainly, Local Motion of Boston does not leave any stone unturned to make your travel time fun and comfy. Indeed, we have professional chauffeurs who have extensive knowledge of Boston. They are adept with the roads and routes of Boston. 
Henceforth, you do not have to worry if you are a first-time visitor to Boston. Moreover, we have brand new charter buses, deluxe motor coaches, and shuttle buses that are immaculately maintained and outfitted with the most up-to-date details.
Boston is a very picturesque city. Moreover, if you are visiting Boston for the first time, our chauffeurs will make sure that you witness the beautiful landscapes and cityscapes while riding with us.
Our knowledgeable drivers can locate everything from a hidden sports field to a far-flung tourist landmark. They are proficient in avoiding busy places and like showing out all favorite Boston attractions. When you confirm your trip with us, your reservation agent will assist you with organizing the location details. Further, he will communicate those details with your assigned Local Motion of Boston driver.
Massachusetts
The combination of corporate and charter bus rental accommodates our clients' entire range of commutation requirements in Massachusetts. This means we can accommodate all kinds of group transportation needs. Whatever type of expedition you have in mind, we will undoubtedly have the vehicles to meet your needs. Our team operates well before your schedule so that you do not face any last-minute rush to reach your venue.
Local Motion of Boston offers a range of diverse charter bus rentals in Massachusetts. Specifically, our charter buses include motor coaches, mini-coaches, corporate shuttles, and school buses of varying capacities. All of our pro bus rental services are best suited for group transportations, events, weddings, and interstate travels. 
New England
Local Motion of Boston provides the most convenient and consistent transport rental services in and around the regions of New England. We have the infrastructure needed and an experienced crew in place to execute and manage numerous trips per day throughout New England.
Transportation – local, regional, or overnight – our vehicles and chauffeurs are always prepped and ready to go. Surely, each of our commercial-grade vans, school buses, and motor coaches has its own set of features to meet any customer need or budget. We take pride in offering the greatest transportation solution with concierge-level service tailored to each customer's unique event.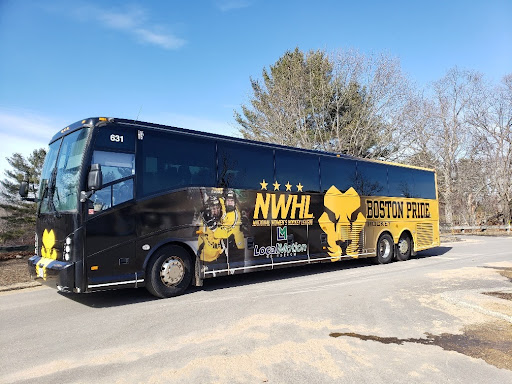 Takeaway
The key to our success in serving different areas in New England and Boston is our dedication to providing professional and safe charter bus service. Our entire crew strives to deliver the finest level of customer amenity. We ensure that you arrive at your destination on time, every time. Our services that comply with the charter bus regulations make us your reliable commute partner.