Are you planning for a trip with your office employees or friends? Then Boston Charter Bus Company brings you some tips on how to make the most of your trip. Check them here.
A well-planned group trip could be one of the most enjoyable travel experiences. Imagine how much fun exploring a beautiful location with like-minded travelers would be! Group travel may result in humor, beautiful experiences, increased knowledge, and big smiles. However, one issue that we may come across before going on this amazing journey is: how should we arrange a group trip?
First, arranging a group trip requires more precision, communication, and organization. There are numerous factors to consider while arranging a group trip. 
Ideas For A Terrific Trip By Boston Charter Bus Company
#1 Choosing the mode of transportation
You can choose cabs for transportation. Yet, the cost becomes high, and you may miss the element of togetherness. Moreover, if you are planning a long trip, having a comfortable trip with all the necessary amenities is essential. So, a chartered bus is an excellent option if you want an enjoyable trip. Thus, hiring a chartered bus from a Charter Bus Company in Boston like Local Motion of Boston may have a pleasant experience.  
Furthermore, a chartered bus has considerable space and may make your journey more pleasant when equipped with the appropriate facilities.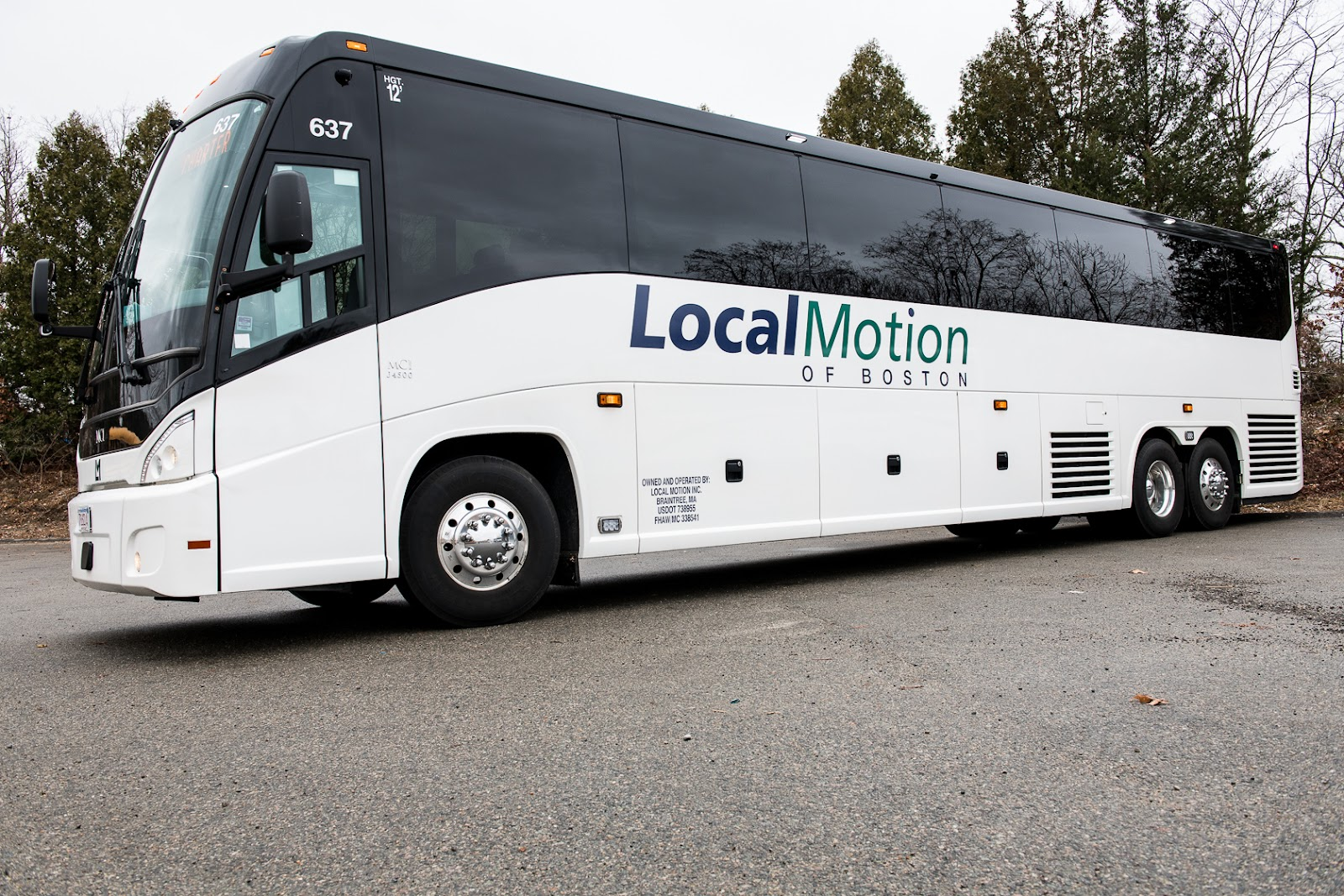 #2 Ensuring everyone's comfort
Double-check with the Boston Charter Bus Company that they have the best amenities, space, and other things to ensure passenger comfort. Comfort is essential. No matter how thrilling the bus trip may be, the long hours of traveling can exhaust anyone. So, choose charter buses with the most luxurious features. Local Motion of Boston offers expanded footrests, extra legroom, and contemporary chairs for far more adjustability choices. 
So these things make the journey much more comfortable and put everyone in a better mood. When booking a charter bus with a Boston Charter Bus Company, inquire about the available facilities and seating choices. 
#3 List down the bus amenities you need
When choosing a chartered bus, you must get familiar with its facilities and how they align with your group's requirements. Various bus companies provide facilities that might enhance your travel experience; many have radios, media players, televisions, and lavatories. Also, some also offer WiFi, charging plugs, etc. So, list your amenities required and then proceed with the bus booking. 
#4 Verify their payment policy twice
Bus drivers and operators are subject to the payment regulations of their employers. But, others might charge you for parking, tolls, and additional fuel, and some companies impose additional fees for damages and insurance.
You must double-check company payment terms to ensure you have a straightforward agreement with the bus rental company. Determine whether there are any extra costs or hidden fees.
#5 Ensure the size of your bus
With luxurious seats, ergonomic chairs, and cold air conditioning, you may interact with friends and family or rest till you arrive at your destination. The size of chartered buses is their greatest asset. These large vehicles can accommodate any number of people, making them ideal for corporate outings, family vacations, and group trips. Further, they facilitate your travel from one tourist destination to the next.
No more jostling and stumbling over bags with rental buses; they are built to handle big groups of 20 to 50 people. Likewise, buses offer overhead and other storage areas for your luggage and belongings.
#6 Analyze their safety measures
Your trip's safety falls primarily on the driver's shoulders. To limit the chance of accidents, you must pick a reputable Boston Charter Bus Company with experienced drivers. Ensure that the driver has a license and relevant expertise. You may also do a pre-trip discussion with the driver to identify any potentially harmful problematic behavior. Local Motion of Boston has verified, licensed, and insured drivers with excellent driving skills and can ensure that your travel remains safe. 
#7 Decide on a budget
The budget is generally one of the most challenging aspects of arranging a group trip since individuals often have varied views of the money they want to spend while traveling. Group members should settle on a budget for the journey and stick to it. Furthermore, the budget also includes the transportation mode you choose. Hence, communicate and decide accordingly. 
Final Say
Local Motion of Boston offers vans, mini-coaches, school buses, and luxurious motor coaches. We transport groups of 3 to 3,000 throughout Boston, New England, and beyond. We match the perfect transportation to your party and occasion, ensuring a great experience from booking to the final stop. Contact us today.