The corporate shuttle van rental is a great option for employees who need to commute to work. The vans are available for long-term rentals and have the flexibility to be used for business trips or for commuting to work. You can choose from various sizes and features when renting a corporate shuttle.
In Boston, Shuttle vans are a great way to reduce traffic congestion and save on parking costs. They are also a convenient and comfortable way to get to work. The vans are equipped with air conditioning, comfortable seating, and plenty of space for luggage.
Boston's Best Corporate Shuttle Van for Rental
Many businesses provide transportation to and from work as a perk to workers or a cost-cutting tool. In addition, companies are trying to save costs everywhere they can, even when transporting a sizable number of workers to a single destination for a single event or activity. Boston's Local Motion offers dependable shuttle services for workers, such as:
To/from a venue for events

To/from Bus and train stations

To/from halls for conferences and conventions

To/from remote parking lots or big airports like Logan International Airport or Manchester International Airport, or T.F. Green Airport in Providence, RI

Private Contract Shuttles

Charters
Any shuttle that involves your team members and is within your budgetary constraints
Local Motion will examine your business's requirements for the employee shuttle and create a comprehensive transportation strategy that meets all of your specific needs. We'll work with you to modify the event to support your company's goals for employee bonding and brand awareness. Local Motion in Boston provides solutions based on economies of scale and enhanced efficiency since we know how important it is to reduce transportation expenses to a minimum.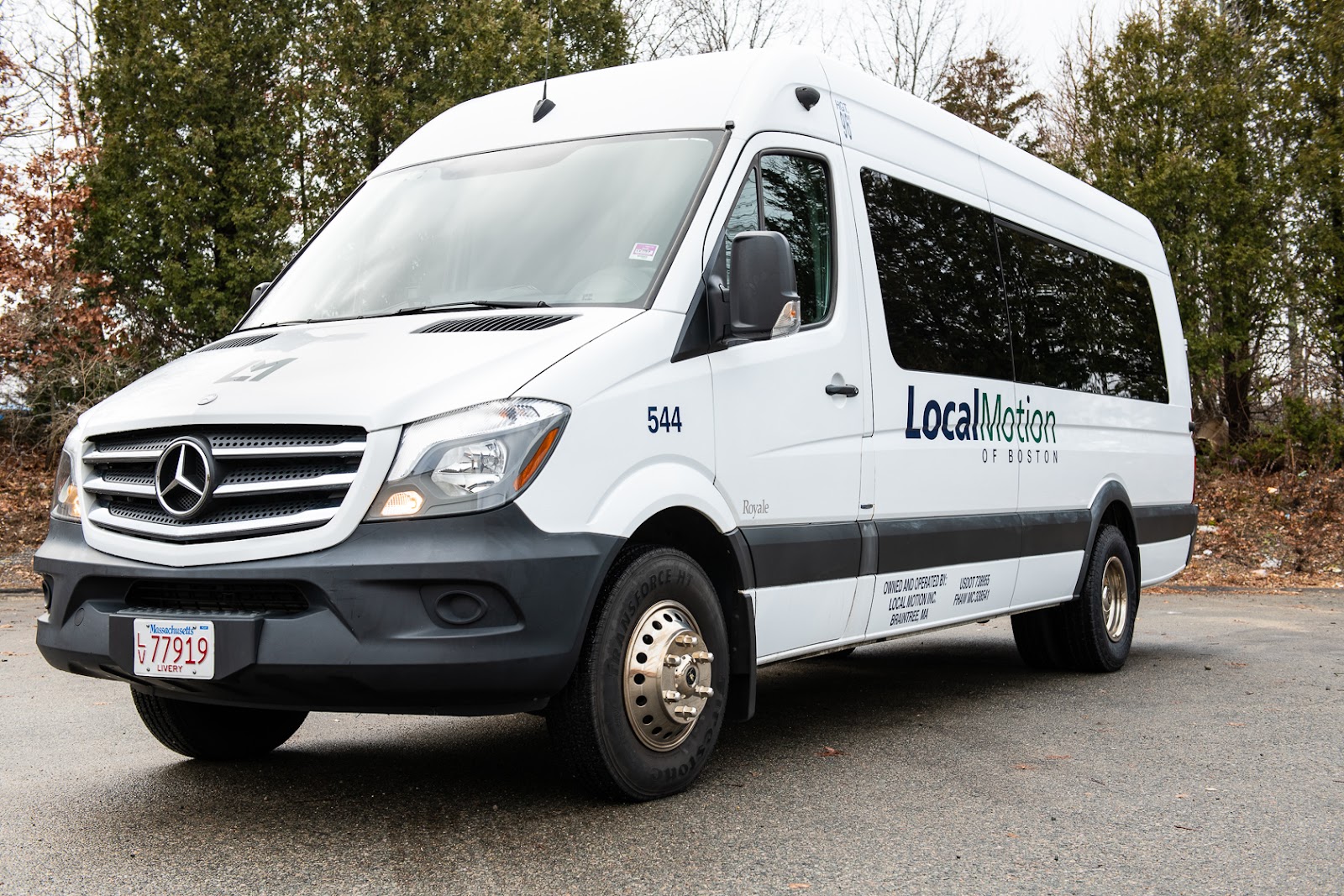 Long-term rental contracts with flexibility
Are you coordinating a commuter shuttle for your office? Are you planning numerous tours this summer? Need a reliable ride for your congregation between the parking lot and church? Beyond one-time journeys in or out of Boston, Local Motion may handle continuous travel contracts for long-term transportation. Contact our long-term reservation team at 781-535-6344 to keep your passengers moving on a contract that meets your budget, schedule, and route objectives.
Select the appropriate shuttle van model.
Our 14-seater shuttle van rentals have been useful to various businesses. Limo services may hire a shuttle bus that seats 14 people to accommodate their regular clientele and attract new ones. Renting a shuttle van for 14 passengers is an excellent solution for hotels, construction businesses (who need to transport staff to project sites), client transportation (executives to and from airports), youth and adult church mission trips, and camping tours.
In addition to providing a secure, comfortable, and convenient ride, Local Boston also makes it easy to book a minibus for 15 passengers without breaking the bank.
If you think you may need more room, check out our 23-27 passenger mini coach bus, or browse our full van and bus rental catalog for all available options.
Trips for Larger Groups
Corporate shuttles are a fun way to get to work and travel around. They are a great way to stay connected with coworkers and have fun! Our corporate shuttle van is equipped with comfortable seating, an air conditioner, and an entertainment system—those who want to stay connected with friends and coworkers on the road can use Wi-Fi.
Individualized Tours
If you're looking for a great tour experience but don't want to be tied down to a group, we've got just the thing for you. Our tours are designed to give you the best of everything, from great sightseeing to plenty of personal attention.
We know that not everyone wants to be part of a group, so we've put together some amazing tour packages that are perfect for individuals. Whether you're looking for a leisurely trip through the countryside or an action-packed city break, we've got you covered.
Our tours are always evolving, so check back often for the latest offers. We'll make sure you have an unforgettable experience wherever you're going.
Conclusion
Temporary workplace transportation is the hot new trend, and corporate shuttle van rental in Boston can be the perfect solution for employees seeking an alternative to driving to work. Business travelers find corporate van rentals in Boston convenient ways to get around during their trip. Employees do not have to worry about driving to their destination, parking, or paying to park overnight. So, what are you waiting for? Contact our reservation specialist at 781-535-6344 to arrange for trustworthy group transportation for your staff. Alternatively, you may get a price estimate for an airport shuttle for your staff by filling out an online form.