Group transportation solutions are important for events of any size. Whether it's a wedding, a school field trip, or a work meeting, group transportation is an easy way to get people from point A to point B. It's also important to consider the age and size of the group you're planning to transport. Some options for group transportation include driving your car, renting a bus, or taking a taxi. The best option for your particular event will depend on the size of the group and the distance that needs to be traveled. Boston's Local Motion has several options for you.
Group Transportation Solutions for Large and Small Events
Organizing a group transportation solution for your event is a great idea. There are a few ways to do this, but the most common is to organize a shuttle bus or a minivan that can accommodate all of your guests. When you organize a bus, you'll have a dedicated driver, ensuring that all your guests arrive at your event on time.
Faster travel
A shuttle or charter bus service might be more cost-effective for business or vacation parties. When you consider daily service charges, petrol, and parking fees, rental automobiles may rapidly add up. Local transportation services can assist you in exploring new places and get you to your destination faster.
Plan ahead
Peak seasons might cause price fluctuations. You may prevent price surges by booking a charter bus or shuttle service in advance. Last-minute bookings can be stressful and expensive since the firm may need to recruit more staff to fulfill the deadline. So you may schedule us in advance if necessary.
Book the right-sized bus for your group
Determine how much room your party needs to travel comfortably. Consider how many seats and baggage space you'll need based on how long you'll be away. Once you know your needs, don't overbook.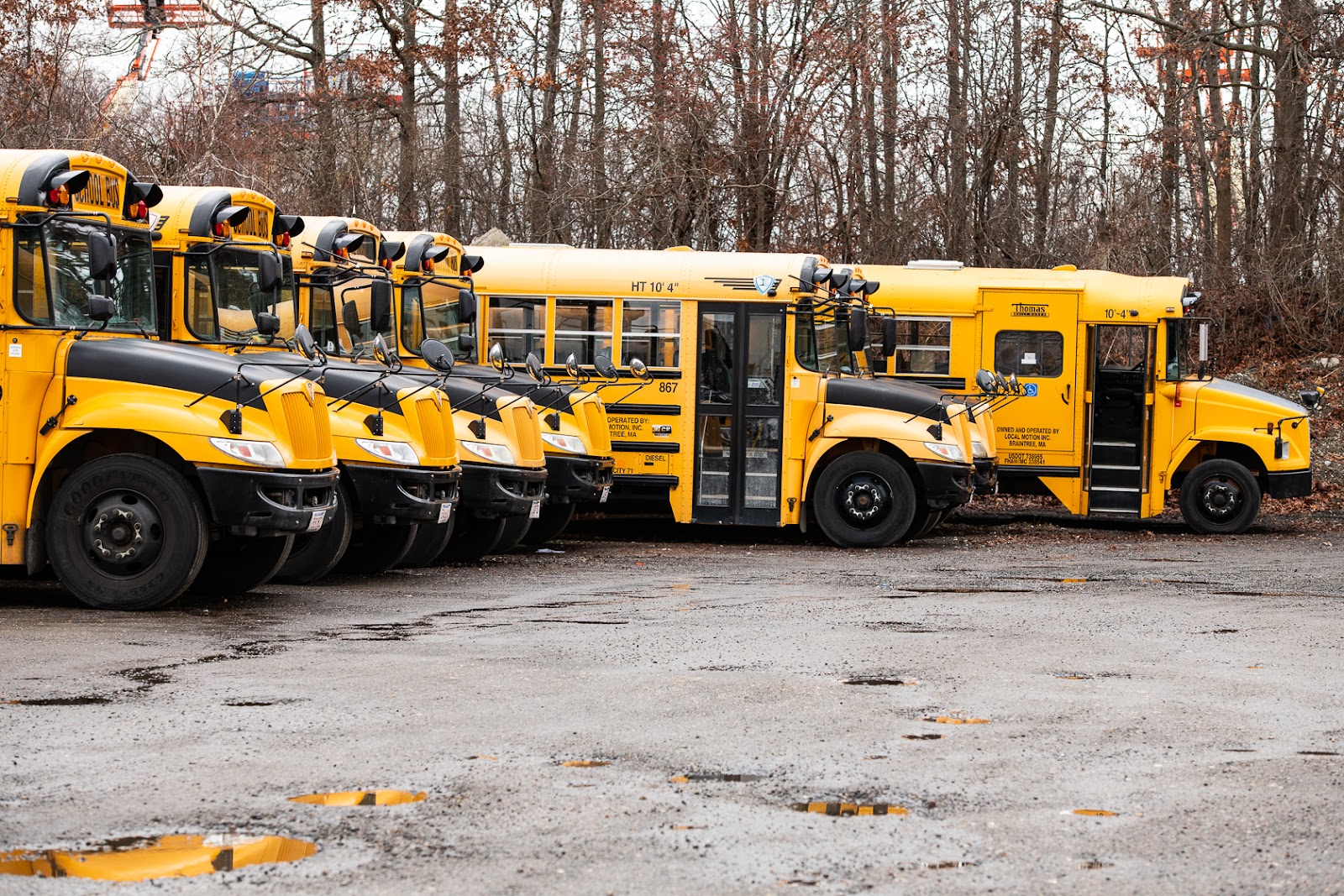 Local Motion of Boston has a wide variety of comfortable, air-conditioned motor coaches to accommodate parties of all sizes. We have in our fleet:
Motor Coach (55 Passenger) 

Large School Bus (50 Passenger)

Motor Coach (30-40 Passenger)

Medium School Bus (30 Passenger)

Mini-Coach Bus (23-27 Passenger)

Corporate Shuttle Van (14 Passenger) 

Small School Bus(14 Passenger)
For Large Groups
For a large group, we suggest a Motor Coach. Charter buses have lots of room under the seats, so it makes sense to pack more people inside. As a general rule, charter buses have a capacity of 55 and 59 passengers. Therefore, working with this number is important.
For Smaller Groups
When choosing the right bus for small groups, a mini-coach bus (23-27 Passengers) or a small school bus (14 Passengers) is typically the best option. These buses offer a comfortable ride for smaller groups of people and are usually more affordable than larger buses. If you're looking for a bus that can accommodate a small group of people, a mini-coach bus or small school bus is likely your best bet.
Good Service Quality
Our goal is to revolutionize the transportation industry. We recruit the finest, and chauffeurs go through rigorous training to manage any emergency. Our drivers must pass stringent background checks, obtain proper registrations, and achieve near-perfect results. We are selective in hiring to ensure customers' highest levels of security and competence.
Comfortable Journey
We provide a luxurious and comfortable bus service that helps our customers travel in style. Our buses are equipped with the latest amenities, and our professional drivers are always on hand to ensure a safe and smooth journey. Whether you're traveling for business or pleasure, we guarantee that our service will exceed your expectations.
Skilled Drivers
We have a team of professional drivers who are experienced in various driving conditions. Whether you need a driver for a corporate event, wedding, or simply to get around town, we have you covered. Our drivers are courteous and reliable, so you can rest assured that you'll be in good hands.
Conclusion
Local Motion has had a perfect track record for transporting large groups of people across the greater Boston region for the past 25 years. Our fleet is maintained properly with the cutting-edge technologies required to guarantee safe, dependable transportation. We are a growing team of 240 individuals that take great pride in providing our clients with concierge-level service, affordable pricing, and extensive knowledge of the New England area.