We're always happy to hear about successful trips from our clients. Here's a nice email we received after a high school band field trip to Hershey Park, Pennsylvania. BTW, the motor coach that they were so pleased with was one of our new 2013 MCI J4500s, a real sweet ride. And kudos to our driver Dennis who helped make the trip a success.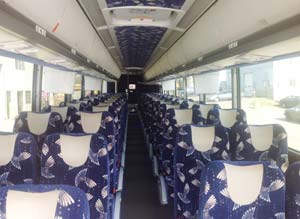 " I want to take a moment to give you a review of the coach service we had this weekend.
The bus was fantastic. New, clean, comfortable, smooth, with a great TV and sound system. We enjoyed movies and music all the way down and back. There were a lot of coaches at this competition, and we definitely had the best one! Everyone in our party, from the newest bus traveler, to the old, jaded bus traveler (myself, who was on a coach for 3 weeks straight during my old drum corps days) had nothing but praise for the bus.