For more than 15 years now, Local Motion of Boston has been providing safe and reliable student transportation to university attendees to and from campus. Our late-model buses are all equipped with seat belts, so all riders can enjoy safe and secure student transportation, all without having to worry about traffic conditions or any other driving concerns. In addition to providing student transportation back and forth from campus, we can also provide any needed transportation to events, activities, sports competitions, and field trips in the New England area.
Affordable student transportation
Local Motion of Boston is very much aware of the cost of transportation to universities and colleges, and that's why we offer discounts and savings to regular customers of our services. We offer economies of scale where you can save money by transporting students in volume, and by engaging our services more frequently. The money you can save by taking advantage of these volume discounts will make it much easier on your transportation budget, and it will make our service a very practical and viable solution for you. 
A huge, reliable fleet of vehicles 
Every vehicle in our fleet conforms to safety standards and operational standards set forth by the Department of Transportation (DOT), as well as the National Highway Traffic Safety Administration (NHTSA), so you can be sure your students are being well taken care of. Depending on the size of the group of students being transported, we can match a number of different vehicles to your particular needs, so as to accommodate any sized group. We have three different sized traditional school buses, which can hold 14, 30, and 50 passengers. We can also provide a corporate shuttle van which accommodates 14 passengers if you have a specific event that you need students to be transported to.
Then we have mini-coaches which can comfortably seat between 23 and 27 passengers, and this might also be ideal for a special event such as a field trip to an educational facility. For longer trips that might be out of state or at least out of the area, we can provide deluxe motor coaches, sized to hold either 40 or 55 travelers. Of course, the deluxe coaches feature a number of amenities that are important for longer travel, so that students can be comfortable the entire trip. We understand that your college or university has a wide range of needs regarding transportation, and that's why we offer such a diversity of vehicles to accommodate those different needs.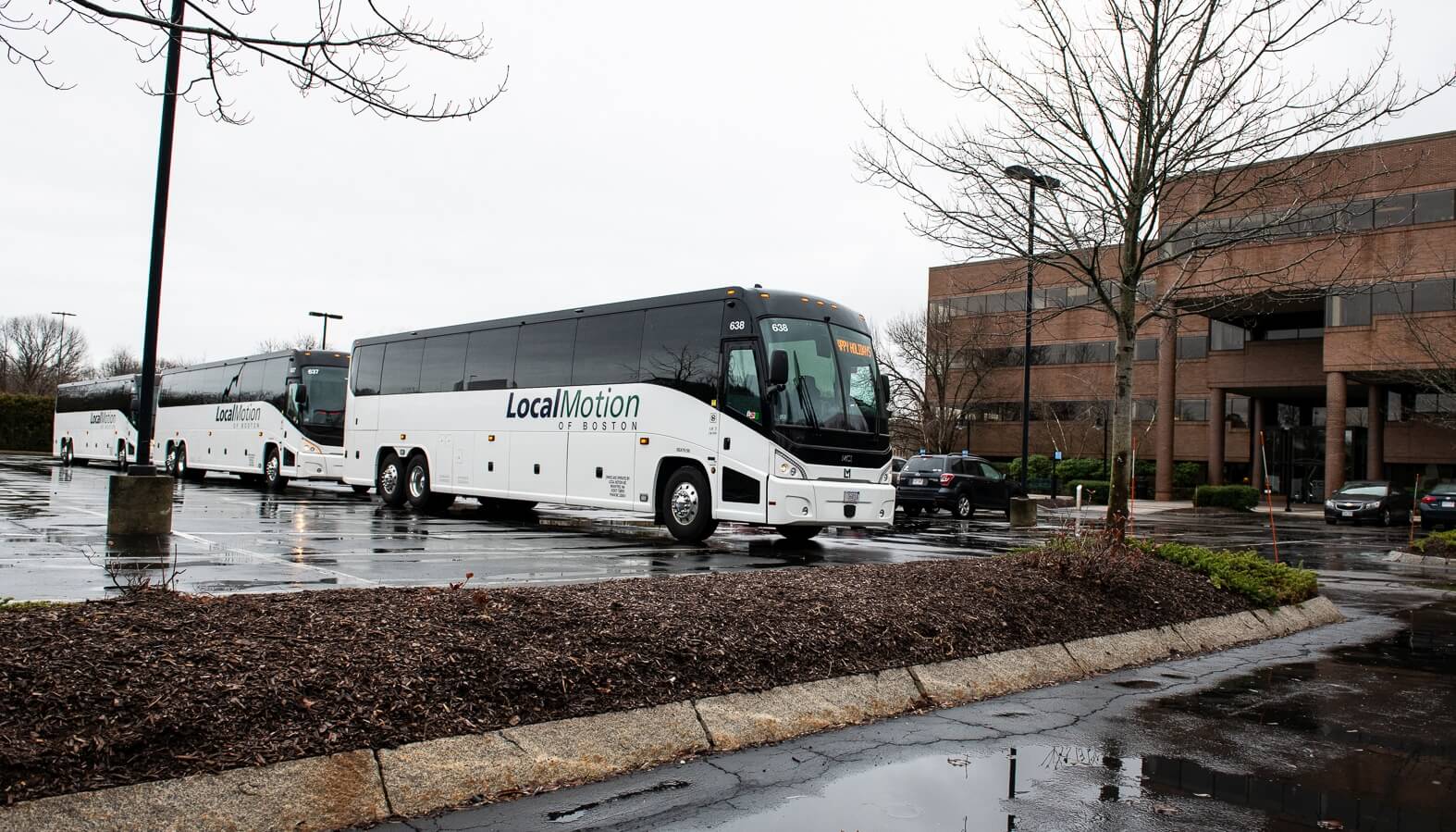 Why choose Local Motion? 
The first reason you should choose us is because we have been providing first-class transportation to all kinds of groups in the Boston region for more than 25 years now. During that time, our safety record has been impeccable, and that's not by accident – we strive to maintain the highest level of safety in the industry because we realize how important it is to safely transport our clients to events of their choosing. Another reason to choose Local Motion is because of the reliability and professionalism of all our drivers. Each driver we hire has been carefully screened in terms of their safety record, their knowledge of the Boston area, and their overall driving skills, so that we have a team of all-stars doing all the driving.
One more good reason to make us your student transportation provider of choice is the versatility of our organization, and our ability to accommodate your transportation needs, regardless of the size of your group, or the destination you need to get to. With more than 160 vehicles in our fleet, we are always ready to provide the transportation you require, and we can take you wherever it is you need to go. In short, you can rely on Local Motion of Boston for all your transportation needs, whatever they may be.