Tours are fantastic, and you never want anything to ruin the positive energy that everyone is already feeling. The mode of transportation your group will utilize should be one of the key considerations when organizing a trip.
Moreover, not only will transportation be one of the biggest expenses, but it can also be the most time-consuming part of planning an event from start to finish. With a Boston bus rental from Local Motion of Boston, you'll get all the convenience and coordination you need, in addition to affordable rates that can often be less than those of more traditional means of transportation. 
Here are five reasons why choosing a Boston bus rental from Local Motion is the best way to go for your next event.
#1 Concierge-level service
Whether you're a hospitality provider, event planner, school, or individual, the team will work with you to ensure your transportation needs are taken care of. We understand that no two events are the same, and we'll go the extra mile to make sure your event is a success. 
With our Boston bus rental services, all the details will be handled for you. For instance, we'll transport guests in luxury vehicles to and from their destinations while they enjoy our fully stocked bar, WiFi connectivity, and entertainment system. 
So you can sit back and relax. Yes, we've got it covered!
#2 Safety and Security 
Our drivers are the best in the business, and we make sure they're Orientation and Education, Commitment to Ongoing Training, and Support School Bus Safety. We also have a strict policy when it comes to drugs and alcohol. 
Driver onboarding encompasses a Local Motion of Boston orientation and organized driving program that includes in-class instruction and practical driving experience. The drivability and dynamics of the vehicle are explained to new drivers. We make sure they are aware of safe passenger loading and unloading procedures as well as how to manage children to lessen driver distraction. Furthermore, they are aware of the general best practices for safe driving defined by Local Motion of Boston. 
Also, we have robust emergency procedures such as evacuation, evacuating children and people with disabilities, emergency fire drills, and administering first aid. 
These are just some of the ways Local Motion takes safety seriously. And not only do we train our drivers — we train our dispatchers too! They work hard every day to coordinate Boston bus rentals so you can relax on your special day. 
For wedding party transportation or long-distance coach charters between destinations nationwide — all done with expertise and dedication to safety and security!
#3 We are Trusted and Reliable
Built in 1993, Local Motion of Boston has grown by its entrepreneurial spirit of giving trustworthy and caring transportation to the busy parents of children. We have top-notch services when it comes to schools, community service organizations, parent groups, and church groups with our thoughtful consideration of the children's travel to and from places. Indeed it fills a big need in the community. Coupled with saving parents time and creating a more stable routine for parents, this has led to our reputation as providing safe children's transportation.
With more than 300 daily trips, with our fleet variety, we serve a wide range of clients. For instance, our clientele includes schools, universities, employers, and companies for employee transportation needs.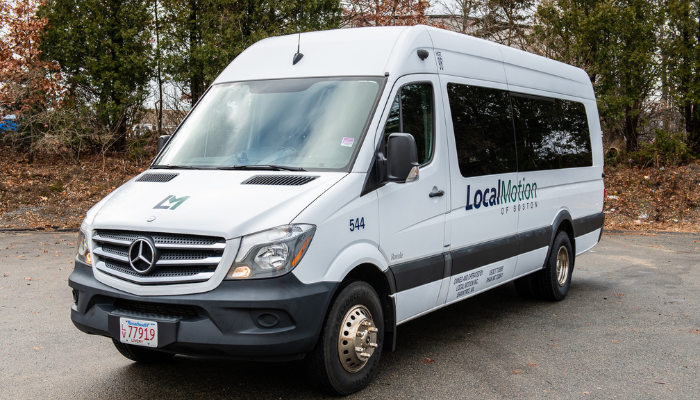 #4 We come at affordable prices.
Local Motion of Boston is a much more affordable option than other methods of group transportation in the Boston area. We have several vehicles to choose from, so you can find the perfect one to fit your budget. We offer discounts for large groups. Hence, the more people you have, the more you save!
Don't forget about our complimentary facilities for your event in or around Boston. Our experience and commitment to safety stay unmatched in the industry. As a result, you'll receive the best service at an unbeatable price!
#5 Onboard Amenities 
Our luxury buses have comfortable and spacious seats for you and your guests. Bus sizes range from small to large, and each seat includes a personal storage compartment and a power port. The vehicles have proper air conditioning. Thus, everyone can enjoy riding in comfort and maintaining high standards of hygiene. Also, our vehicles undergo a thorough cleaning process after each use to ensure they remain clean for the next customer. 
Do you wish to liven up your events? Then it's time to think about using a charter bus company's services. Let a pro take care of all your travel requirements. So, you can focus on the most crucial aspects of the trip.
If you plan for an event, you can count on us to be trusted and reliable. We are Boston and New England's leaders. So, call us today and get to know us!