Whether you're on a business trip, visiting a new place for the first time, or want a charter bus that can drop you at the airport, you'll need a vehicle to get you from one point to another. Choosing a rental service rather than driving on your own relieves you of any worries. Charter bus rentals in Boston are an excellent way to save both time and money.
Having a charter bus service from Local Motion of Boston at your disposal is undeniably convenient, whether you're traveling for work or pleasure. Our dependable and prompt transportation will save you from all the hassle associated with finding and scheduling a charter hire service.
When you choose us as your commuting companion, you can rest assured that you will be in leisure throughout the travel time. There are plenty of reasons why you should ditch driving and leave it on our experienced chauffeurs at Local Motion of Boston – comfort and luxury being at the top of the list.
We Promise Convenience
Our professional chauffeur is well-versed in the city, routes, and highways. Besides, you do not need to be concerned about traffic. To enumerate, our team determines the route with the least amount of traffic to reduce your commute time as much as possible. Additionally, we have a vast fleet of vehicles with the most up-to-date technical features, ensuring that your ride is safe and secure.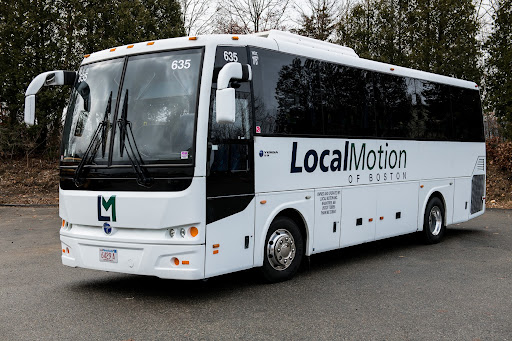 Hassle-Free Reservation
Booking a vehicle with Local Motion of Boston is a straightforward and quick process. All you need is to choose a vehicle that matches your taste and needs and make an online reservation. Our crew will be at your disposal well in advance to prevent you from any last-minute hassles.
Whether you want corporate shuttle vans or coaches to pick your group up from the airport in the wee hours or want a charter bus to transport your family or group to the airport late at night – we have solutions for all. 
Saving your Time
Having to wait for a rental car or cab to arrive at your doorstep when you are in a hurry is the least you want to do. Local Motion of Boston promises on-time pickup and drop-off with zero waiting time. Further, if you are new to the city of Boston or Massachusetts, you can utilize this saved time to fulfill your other priorities. 
Variety of Options
Local Motion of Boston offers a wide range of vehicle options to choose from. All of them are meant to fulfill different types of travel demands:
     

School transportation

     

Executive and corporate events

     

Special occasions and celebrations

     

Employee shuttle service

     

Athletics and team sports events
We have a large selection of vehicles to pick from, ranging from a basic model that may fit budget-conscious travelers to a sleek, executive vehicle that is ideal for any executive group. You'll always find an appropriate option with us, no matter how many people are there in your travel group. 
Technology Backed Charter Bus Services
The majority of our charter buses and coaches are fitted with the most up-to-date technologies, such as GPS. Such high-tech integrations improve your travel experience with us. We keep a close eye on our vehicles' movements to ensure your safety. Consequently, we can guarantee that you and your group reach your destination securely.
Go Extra Mile with Stress-free Travel
Group transportation of Local Motion of Boston abides by the regulatory guidelines while operating the trips. We plan your pick-up and drop-off schedule in such a way that every movement is smooth and seamless. The routes that we follow for your transportation do not interfere with your itinerary in any way.